Our Mission
The mission of the Three Lakes Association is to provide leadership to preserve, protect, and improve the environmental quality of the Elk River Chain of Lakes Watershed for all generations with emphasis on Lake Bellaire, Clam Lake, Torch Lake and their tributaries.
Since 1966, the Three Lakes Association (TLA) has been actively engaged in a variety of ways which support our mission. From monitoring water quality to actively engaging with our local and state governments to providing grants for local science education in our schools, TLA has worked to insure that our lakes will remain the wonderful natural resource that we all love and enjoy.
This website contains a wide variety of information on our current and past projects. Please explore the many documents which are available under 'Projects and Reports'. Our Newsletters are also available, going back to 2004, providing a rich history of our activity.
---
New Membership Portal
Three Lakes Association is pleased to announce our new Member Portal. Please see our October 2021 Newsletter for more information on our new portal.

If you are a TLA Member and we have an email address for you, you will receive an email with instructions on how to access the new Portal. If we do not have an email address for you, please update your contact information.
Winter is coming!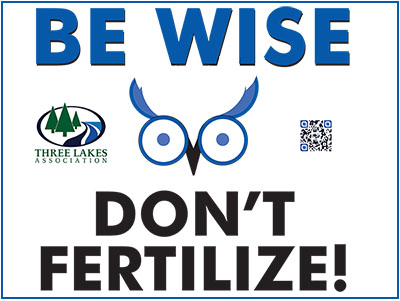 Please remember to bring in your "Don't Fertilize" signs to keep them safe for winter!
Read more…
---
Join / Renew / Donate

Three Lakes Association is a 501(c)(3) corporation. Your dues and other contributions are tax deductible. We accept credit cards or check via US Mail.